Google Hummingbird
Google Hummingbird
Google introduced a search engine algorithm back in September 2013, called the "Hummingbird". This algorithm concentrates on presenting up to date relevant web pages when searched for via the Google search engine. Google's spokesperson Matt Cutts released a statement to the press notifying that the algorithm change would affect 90% of all searches. This equates to a massive 3.15 billion searches every day.
Rather than Hummingbird being associated with being an update, Hummingbird can be looked at as a major adjustment to Google's search engine, and should not be referred to as a patch or a generic update.
Semantic Search
Semantics are distinguishing between different concepts of words and their rules of use, generally, humans have no problems in analyzing semantics. Computers, on the other hand, can not do this, unless of course a program algorithm has been written to differentiate different concepts.
To improve search engine results semantic search is used to focus on a search query and how said search query could relate to other information or relevance. The semantic search thus concentrates on determining what a search query means and focuses on finding the most relevant information on the web in the form of web pages, these pages are then presented to the user.
An example of semantic search could be if a user enters the search term "weather", the odds are more stacked that the user is looking for a weather forecast in the local area, and not a scientific paper on meteorology.
This example:
Weather is the desired search term
The intent of the user is to find a local weather report
Hummingbird has successfully differentiated between different concepts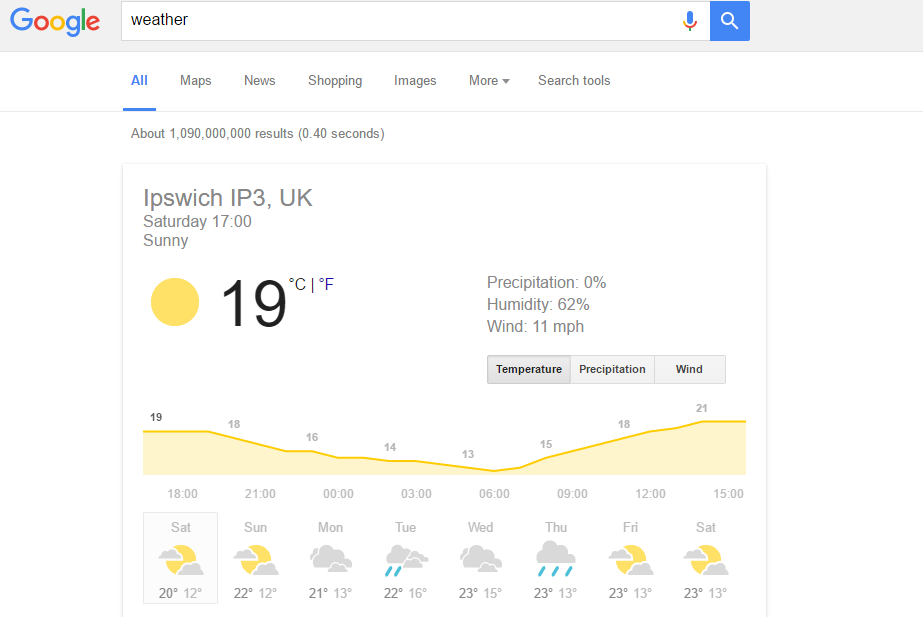 This algorithm has been determined via an odds ratio, in this case, the odds come in the favor of a local weather report. Which is tracked by the location via an IP address geolocation. If however, a user was searching for a scientific paper on meteorology, Google has presented a web page by Wikipedia which has links to more in-depth information. If Wikipedia is not a suitable page for the user they would have to make a more descriptive search.
How to improve semantic Web
The main problem was, that before the Hummingbird, internet web pages were written for humans and not for computer programs to read, thus computers could not effectively process said web pages effectively. Computers can effectively process human placed elements such as headers and links to other pages. But the reality is that computers have no realistic way of processing the semantics the way a human can.
Hummingbirds semantics effectively bring structure and order to today's web searches, filtering out the Spam web pages that have little or no relevant structure. The semantic software is able to present information such as what times certain shops and restaurants are open and what services a nutritionist may offer.
The semantic web is not to be looked at as a separate Internet but as a useful resource, where information is open and enables algorithms to effectively display such information to help improve today's Web. Semantics are enabling computers and humans to effectively work together, thus saving time and efficiency.
Complying to Hummingbird
From research and running controlled analysis on key elements of our customers' sites, to concur with Googles algorithm changes. SEO efforts should be focusing on:
Technical
Internal linking architecture should be uncomplicated, enabling smooth navigation throughout the website. Page load times should be as fast as possible, to include optimized images, sitemaps, and condensed style sheets.
On Page
Basic on-page SEO elements, to include, tags, URL's, and ALT tags, are of major importance in the semantic search. While H1 tags are of uttermost importance on a web page.
Content
Obviously, content is still seen as King by Google, content should always adhere to a professional standard. All content should be relevant and none duplicated.
Conclusion
Googles Hummingbird is a great tool for general users and of course great for academic purposes such as researching. Semantic search is proving to be a useful resource, leading to the ever-growing web achieving a more user-friendly environment.