Ecommerce SEO
Ecommerce SEO – improve eCommerce Page Ranking
The best way to get visitors to your eCommerce store, is to appear high in the search engine rankings for your chosen keywords. This can be quite a tricky concept as an eCommerce store is not feature-rich in content, as they are more focused on the products they sell. Although this task can be quite challenging and time-consuming, it can be very rewarding to your eCommerce store over time.
Consider:
Online activity normally begins with a search
Half of website traffic is pointed via organic search
Over 40% of online revenue is created by organic searches
79% of actions on the Internet start from a mobile device search
40% of purchasers were influenced by researching on the search engines
eCommerce stores with low start-up budgets can not really compete with the more established stores, but new start-up stores can focus on individual product and category pages for keywords that are less competitive, and long-tail keywords can also be researched.
How to rank higher in the search engines
Let's look at the example of RC helicopters.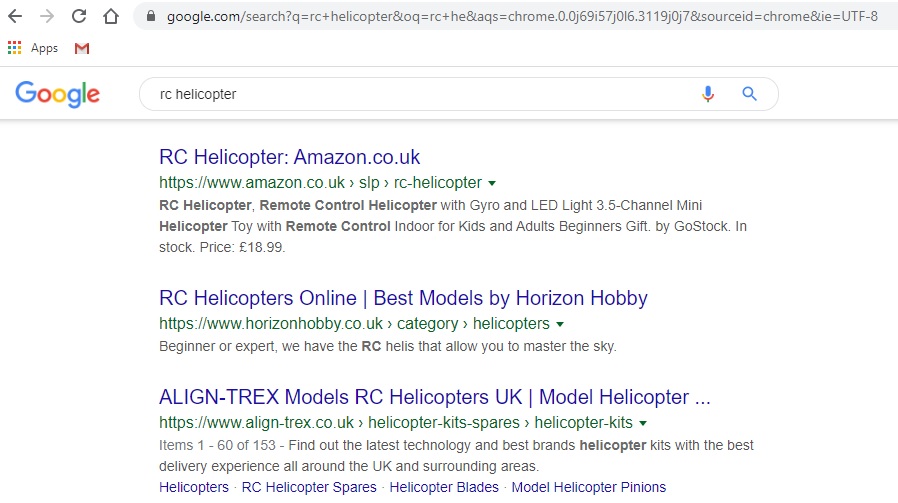 As you can see the websites with the high results are well established websites, these websites have a high domain authority as they are trusted by Google.
Realistically an eCommerce store that has not been around very long would not really be much competition for these websites. This is because the eCommerce stores that have current high Google results have domain authority, and a lot of well established web pages, to include blogs. This, however, does not mean you should discount creating a eCommerce store, and investing your time or money in building a search engine presence.
A solution to helping you achieve sales for your store is to leverage long-tail keywords – or specific keywords.
An example of this is to search for "RC helicopter" is showing big players such as Amazon. But by utilising long-tail keywords, you can create a lucrative less competitive sales funnel for your store.
Boost eCommerce rankings in 8 steps
Please note that SEO for an eCommerce store is different from that of a content website. With an eCommerce store, there will generally be a lot of web pages to SEO, and these pages will generally have a lot less content. This will increase the threat of creating duplicate content.
How to optimise an eCommerce website
Keyword research is a must
Optimise all pages with on page SEO
Optimise product and category pages
SEO URLs
Render images
Perform technical SEO
Add rich content
Design with mobile search in mind
Perform keyword research for product and category pages
To perform keyword research you need to research your competition and analyse what they are doing to be successful. Also, you need to find realistic keywords to SEO your eCommerce web pages for.
Here are some options for keyword research:
Amazon predictive search
Amazon is the most popular eCommerce search website, and it can also help with keyword research campaigns. To perform keyword research via Amazon, type in the key search phrase, and the Amazon predictive search field will show popular search phrases based around the keyword you entered.

Paid SEO tools
There are tools such s Ahrefs, which is quite a powerful resource for performing keyword research, it also helps you find out the keywords your competitors are targeting.
As with any of the ways you decide to choose to do your keyword research, the next step will be to optimise your web pages, with the keywords you have chosen.
Most SEO consultants will create a spreadsheet at this stage, this will include all the pages, and all the keywords you are targeting. Sometimes it is best to include meta titles, H tags, and descriptions on the spreadsheet.
Update the meta titles, descriptions and H1 tags
Once the keyword research has been done, it is time to start optimising your pages. The first sage is to optimise your title, description, and H1 tags.

SEO product and category descriptions
The product and category descriptions are important elements of a web page, they tell the search engines and the customer what products are on the web page.
On the category page, most search engines only need a couple of paragraphs of information about the products or services. When writing this page, be sure to add the chosen keywords in the category description.
Product pages need to have more content to help inform customers about the product listed on the eCommerce store. Try to include as much information as possible to help your customers make the best informed decision.
Product pages should include:
A unique description of the product, as much information as possible
Optimised images of the product
Reviews
Product details, to include; measurements, weight, requirements, etc.
If possible, a video of the product
URL technical configuration
SEO friendly URLs are important to the success of an eCommerce store.
Google prefers detailed but short URLs. The URL should be limited to just the product.
Good: https://www.example.com/product-keyword
Acceptable: https://www.example.com/category/product-keyword
Not Good: https://www.example/category/category-keyword/product/product-keyword
An eCommerce platform generally dictates what choices can be used for URL configurations.
Images
Good quality images are very important in the success of an eCommerce store, if the images are not optimised they can damage your search engine results.
There is acceptable image quality, be sure to use a small file size, but of good quality.
The best format for high colour images is JPEG, for simple images use PNG.
All images uploaded should be optimised with ALT tags, these tags are used to help visually impaired users navigate around a website. And they also help search engines understand what the web page is about.
Technical SEO
To perform good SEO on a web page means much more than content, and adding metadata. Technical SEO has to be added to also make a website successful.
Website load times
Bounce rates of slow websites increase by as much as 50% if a website is loading slow, and the conversion rates tend to fall by 14% for each load second.
A sitemap should be sent to Google and Bing
It is good practice to submit a site map to Google and Bing, this lets the search engines know about all of the pages that have been created. Also by submitting a site map, Google and Bing can notify you of any technical issues that arise.
Install an SSL certificate
SSL certificates are not just needed because an eCommerce website holds important data, it also helps to protect that data from malicious attacks.
Generally, all search engine platforms now tell the visitor if a website is not secure, so it is a must to purchase an SSL certificate.
Easy Website navigation
If an eCommerce store is simple to navigate around, it will be more successful in helping your customers find the products they are looking for. A easy site navigation will also help the search engines crawl the website and list all of the web pages on its index.
Clean up broken links
It is very important to scan a website for any broken links, these are URL's that lead to a 404 page. Cleaning up broken links will improve your search engine ranking.
Creating a custom 404 page will improve the customer experience of the website.
Add content for improved presence
With most eCommerce websites, it is typical for product pages to not include much content. This ultimately leads to poor search engine visibility. This can be changed by simply adding more detailed content. Useful content to add could be:
Infographics
Buyer's guides
Comparisons
How to and learn to guides
Frequently asked question
Reviews
Embrace mobile search
Mobile search is crucial for any website, and not to be overlooked:
90% of customers now search on a smartphone
67% of people now use mobile for impulsive shopping
40% of eCommerce sales in 2018 bank holidays came from a mobile smart device
Optimising a website for mobile search is not much different from the techniques above.
Challenges that may be incurred with eCommerce SEO
Low quality content
When adding products to a eCommerce webite, store owners tend to neglect content creation. This may be because they are more interested in uploading their stores' products as quickly as possible. It is best to adhere to the search engine company ethos, of "content is king".
In the past, website owners and SEOs got away with copy and pasting content onto a website. However, this has changed now since Google Panda has come into play. Since the Panada update, website owners have to make sure that all content added to a website is unique and will help the customer make a well informed decision on the product they are thinking of purchasing. These pages must now include as much information as possible, to include, photos, and custom product descriptions.
Thin content on website pages
Thin content is a very important factor of on page SEO, and a lot of eCommerce websites have this problem. Thin content on a website can incur a penalty from the search engines, this could be not to index the web page, or to include the web page in the index, but further down the ranking. An example of a major website that incurred a penalty is Ebay, they lost upwards of 35% of its organic traffic due to thin content and the Google Panda update.
Reasons for thin content
The main reason for thin content on an eCommerce website is simply because the author of the products' web page has very little to write about the product. This is because the website in question lists a lot of products that are very similar. After all if an author of a website has written a product description about a cup, it will prove quite the task to write 100 more product descriptions about similar cups.
We understand this is quite the challenge, but it will not deter a talented content writer to write 500 words plus on each product page of a website.
How to fix thin content
Now you have identified a problem with thin content on your website, it is best to check each web page individually. A web page can be identified if the web page in question falls below 250 words. Once these web pages have been located, they need to be written again, to include over 500 words.

Neglecting technical SEO
It is also important to remember not to forget about the importance of technical SEO. If your website has great content, that is brilliant. But for a website to be successful on the search engines yo need to provide technical information to the search engines, so they can place your website in the correct search index results.
Duplicate title tags
Quality meta tags are a fundamental part of technical SEO, if a websites meta tags do not describe a product effectively, then the search engines will not know how to list the product page on its index. The problem with similar products, is that some of the websites meta tags will be close to duplication. Here a website owner can use a "brand model" for the title tag, another idea is to try different formatting of words.
Examples for this could be: "VW Polo Small Car" or "Sony Xperia 5 Mobile Phone."
This action might be time consuming, however it will increase click through.

Lack of unique SEO friendly URLs
Every now and again you will come accross a eCommerce website with bad URL formatting, these tend to look like this Example.com/store?655477433?ft_rt_5
This type of URL is very damaging to an eCommerce website, as it holds no value to the search engine that is trying to index the web page.
Take a look at the example below.

Here you can see that the URL is not in a format that is useful, this holds no value to a website customer or the search engine trying to index the web page. The only part of the URL that is useful is the beginning part.
In the technical SEO field, we tend to call a bad format URL a "messy URL", if they, however, read well they are classed as "clean URL" this is because they are deemed as useful to both the human searching for a product, and also the search engines.
It is important to understand the URL parameters, and how clean URLs help search engines index web pages properly. Parameters provide information such as, how many times the web page has been visited, and where the web page link was found. It is a good idea to set up URL parameters to effectively perform market research on your website.
Site speed
Google has publicly announced that site speed is a major factor in where a web page is placed now on Google.
Site speed is not just a factor for good search index results, it also impacts a website's bottom line. A slow website could cost your company a lot of revenue. This is because the bounce rate of a slow website is increased by 50%. And even if a customer decides to still use the slow website, abandonment of shopping carts can increase by up to as much as 30%.
Why do some websites have slow loading times?
The most common issues for slow loading websites are listed as follows:
Heavy coded websites

Large image files

Slow website servers
These issues can normally be solved quite quickly and efficiently.
Fixing slow eCommerce websites
Upgrade the hosting provider

Invest In a CDN A

CDN will not only speed up a website but it also makes a website more secure from malicious attacks

Optimize Image File Sizes by compressing all images

Questions?
We hope you found this eCommerce guide useful and will implement some of the information on your own website. Plosion Web Design has over 10 years of hands on experience in search engine optimisation. If you require assistance with an eCommerce website please do not hesitate to contact us. We will be happy to give advice on how to achieve your online marketing initiatives.