Magento Web Design London
Magento Solutions
Magento
Magento has been utilized by over 289,000 live websites, if you are a business looking for a serious eCommerce software solution, Magento will easily host over 100,000 products.
Why Choose Plosion ® Web Design?
Bespoke design
Allocated project manager
Full support and training
Versed in Magento SEO
Comprehensive support packages*
Fully managed hosting*
Fully managed security monitoring*
Online marketing services
Product content services
100 percent scalable eCommerce solution
Over 10 years of Magento experience
MAGENTO TECHNOLOGY DISTRIBUTION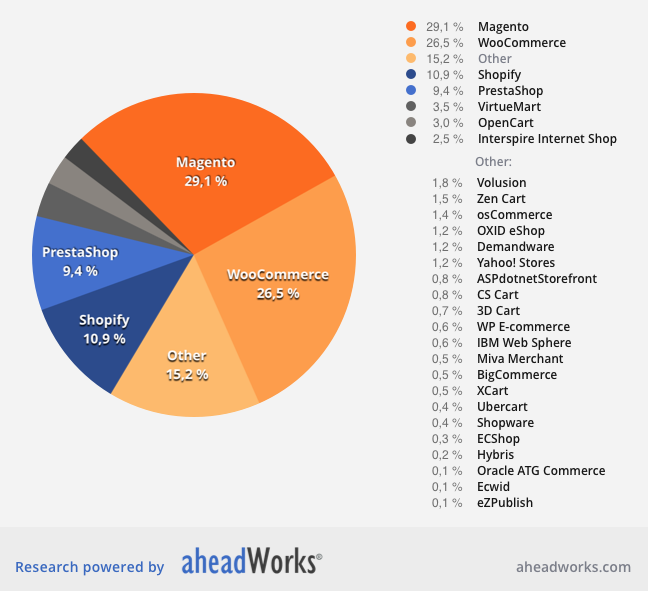 Magento first launched its eCommerce platform in 2008, now Magento is the most abundant eCommerce solution in the world. Statistics have come back to show that 30% of the worlds eCommerce websites are now designed and developed using said Magento open source software, thus contributing billions of pounds of revenue to the economy each day. Magento's offerings include; multiple site control from the CMS panel and fast project lead times.
Aim
We aim to provide our customers with quality, fast turnaround, feature rich, and functional, Magento eCommerce solutions to sell their products or services. We effectuate this by utilizing our accumulated knowledge built up over the years effectively.
Magento Migration & Support
We are often requested to help our customers improve, upgrade, and migrate pre-existing Magento eCommerce stores. We can also help our customers to migrate away from other eCommerce platform solutions such as Zen or Open Cart to Magento eCommerce.
Bug Fixing
If your Magento build is currently lacking the support you require, or you are experiencing a system error that may be permitting you from upgrading or updating. We can bug fix, deploying quick turn around times, or, alternatively we can offer bespoke support retainers.
Please inquire via our contact page for more information